Voedselkeuzelogo #6: de voedingsmiddelensector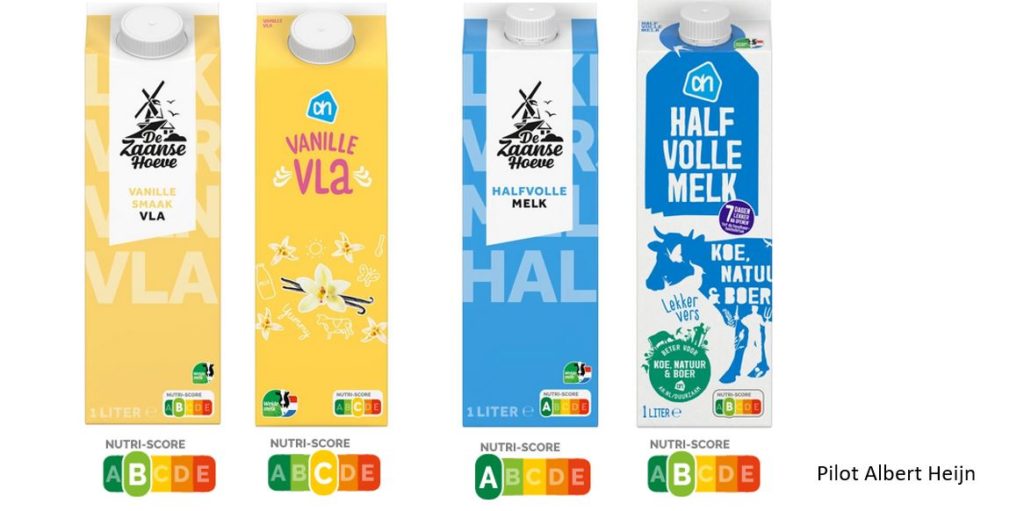 Enerzijds zou een voedselkeuzelogo consumenten moeten helpen met begrijpelijke informatie. Anderzijds motiveert het de voedingsmiddelensector tot productverbetering. Supermarkten en sommige fabrikanten kunnen niet wachten om Nutri-Score snel in te voeren. Alleen nu leidt Nutri-Score tot onlogische gezonde keuzes en dat is verwarrend voor de consument. Dat moet dus eerst gerepareerd worden. Hierover gingen mijn eerste 4 blogs. Maar wie zorgt ervoor dat zo'n voedselkeuzelogo een succes wordt? Is dat de levensmiddelenindustrie, de overheid? Welke rollen spelen de wetenschap en de maatschappelijke organisaties? Wat hebben we geleerd uit het verleden? Voer voor meer blogs. Vorige week de overheid, nu dus de voedingsmiddelensector.
Geen Vinkje, geen criteria, geen doel
De voedingsmiddelensector heeft een nieuw voedselkeuzelogo al lang op het verlanglijstje staan. Al sinds het Vinkje werd afgeschoten. Een voedselkeuzelogo is een manier waarop de voedingsmiddelensector kan communiceren over hoe gezond ze zijn. Zo stelde Albert Heijn zich in 2011 tot doel dat 25% van de producten in 2015 moest voldoen aan de criteria van het Vinkje. Geen Vinkje, geen criteria, geen doel waarop Albert Heijn zich kon richten. Albert Heijn was daarom ook 1 van de voorvechters voor een snel invoeren van Nutri-Score.
Pilot Albert Heijn
Albert Heijn is  sinds een aantal maanden een pilot aan het uitvoeren in het zuivelschap. Misschien is het je al opgevallen. Ik denk dat het heel leerzaam is, want er zijn rare dingen te zien (zie afbeelding). Dezelfde producten, halfvolle melk en vanillevla, hebben verschillende letters. Waardoor dit komt is onduidelijk. Misschien is het onderdeel van de pilot. Misschien wordt er gekeken of de vanillevla of halfvolle melk met een gezondere A of B beter verkoopt dan die met een B of C. Maar het kan ook een foutje van de fabrikant zijn. Ik denk zelf dat de consument niet echt geholpen is met deze pilot. Het is verwarrend. En de consument verliest zijn vertrouwen in Nutri-Score.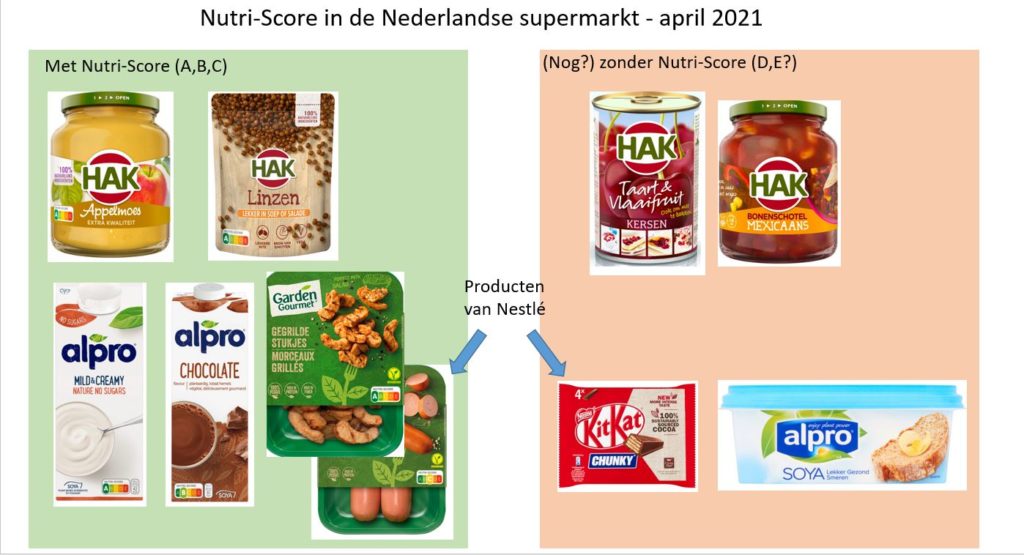 Producenten gebruiken Nutri-Score selectief
Er is een aantal producenten die het verzoek van de overheid om nu nog geen logo te voeren naast zich neerleggen. Alpro en HAK vinden het logo prima zoals het is en voeren al op hun verpakkingen. Logisch, want deze producten scoren allemaal een gezonde A of B. Of toch niet? Als je goed kijkt naar welke producten van HAK en Alpro een Nutri-Score op de verpakking hebben, zie je dat deze producenten opportunistisch zijn. De voedingsmiddelen die hoogstwaarschijnlijk geen gezonde score hebben, dragen (nog?) geen logo (zie afbeelding).
KitKat met een rode E
Hetzelfde geldt voor Nestlé. De grootste voedingsmiddelenproducent ter wereld heeft al aangekondigd het Nutri-Score logo te gaan voeren op hun producten. Nestlé produceert voor veel landen, waarvan sommigen het logo al hebben ingevoerd. Zij gebruiken dit argument om Nutri-Score ook in de Nederlandse supermarkten op verpakkingen te zetten. Te beginnen met de vleesvervangers van Gourmet Garden. Deze scoren gunstig. Ik ben benieuwd wanneer KitKat of Smarties een logo krijgen. Daar wordt nog niet zo'n haast meegemaakt. Dat is geen toeval, vermoed ik.
De rol van Albert Heijn, Nestlé, HAK en Alpro is producten verkopen
Het liefst meer dan de concurrent. In dat licht is dit opportunisme wel begrijpelijk. Zo'n positieve Nutri-Score levert waarschijnlijk meer verkoop op. Het is maar de vraag of dat het geval is bij een rode E op de verpakking. En de overheid gaat heus niet handhaven. Tenslotte is het logo in België en Frankrijk al op de markt. En dit zijn allemaal internationaal opererende bedrijven. Het is veel te ingewikkeld en duur om voor ieder land verpakkingen aan te passen… Maar is dat wel echt zo?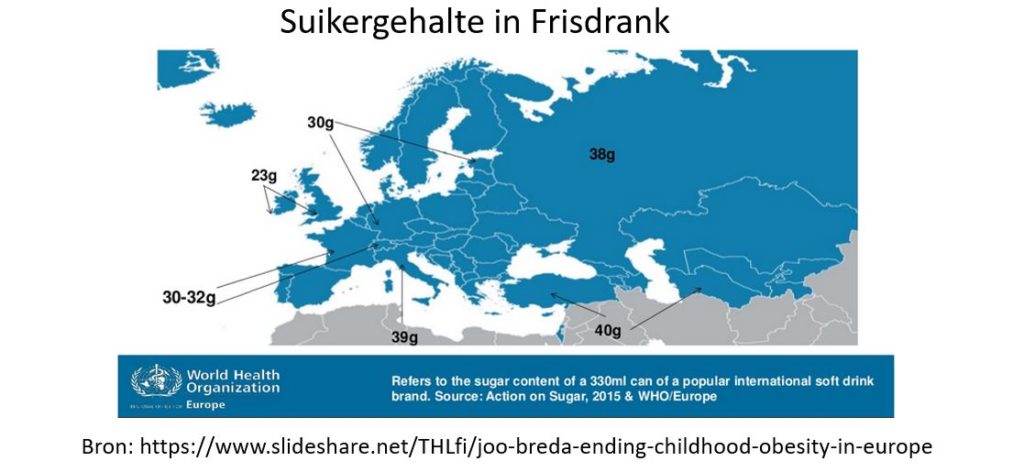 Aanpassen per land kan wel
Ook dit is een kwestie van prioriteit. Als het voldoende oplevert, is het wel degelijk mogelijk om per land verpakkingen, of zelfs recepturen aan te passen. Dat illustreert een analyse uit 2015 van de Wereldgezondheidsorganisatie (WHO, zie afbeelding). Suikergehaltes van een populair frisdrankmerk verschillen sterk tussen landen: in Ierland en Engeland zijn de suikergehaltes 20-23g per 100ml terwijl dit frisdrankmerk in Turkije en Italië bijna dubbel zoveel suiker (38-40g per 100ml) bevat. Het kan dus wel, verpakking aanpassen voor een specifiek land.
Dit is dus een valse start. Jammer dat er door deze spelers in de voedingsmiddelensector niet gewacht wordt tot het voedselkeuzelogo wel klopt en in lijn is met hoe we gezonde keuzes stimuleren. Het ongeduld is best te begrijpen, maar wat er nu gebeurt doet afbreuk aan het consumentenvertrouwen in een mogelijk toekomstig voedselkeuzelogo. Zie dat straks maar weer recht te breien.
Over het voedselkeuzelogo
Al 20 jaar is een voedselkeuzelogo 1 van mijn favoriete onderwerpen, als het gaat om een gezondere voedselomgeving. Je kunt het vanuit veel perspectieven bekijken: overheid, consument, voedingsmiddelensector, wetenschap. Een internationale wetenschappelijke commissie is in februari 2021 begonnen met de herziening van het algoritme van Nutriscore. De discussie over een verplicht voedselkeuzelogo in Europa is sinds de publicatie van de Farm to Fork Strategie weer opgelaaid . Kortom een goed moment voor een serie blogs over voedselkeuzelogo's. Hierin probeer ik voedselkeuzelogo's uit te leggen en wat volgens mij een oplossing kan zijn.