Interview – Koningshof #3: Het kantelpunt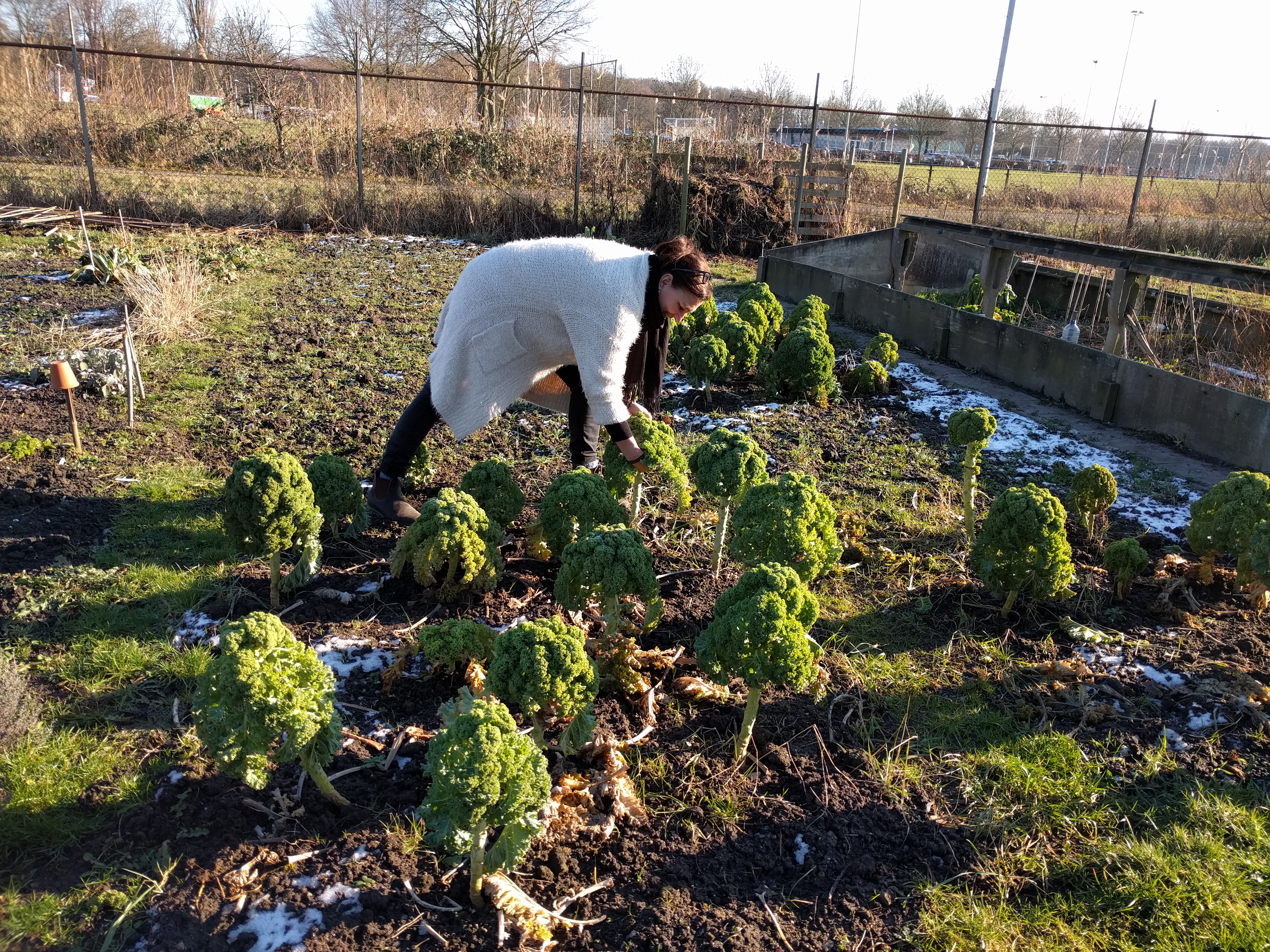 Je kunt er groente oogsten, moes-tuinieren, bijeenkomsten bijwonen. Koningshof is een decor voor kennisuitwisseling over voedsel'. Maar ook een manier van 'hacken van het bestaande voedselsysteem'. De 4 initiatiefnemers die hier ieder weekend te vinden zijn, zitten op een kantelpunt. Ze hebben inmiddels veel opgebouwd, en daar kijken ze heel tevreden op terug. Maar ze hebben weinig te zeggen over deze grond. Behalve dan over de strook tuintjes die Robbert van zijn oma heeft gekocht. Dit is een punt van zorg…
Het spreekt de bank wel aan
We spraken met Akke Bink en Roeland Meek, 2 van de 4 initiatiefnemers. Ze zijn aan het rekenen aan hun drie verdienmodellen: De tuintjes, de groente verkoop en de ruimte-verhuur. Het liefst zouden ze iets bouwen, een restaurant of een paviljoen. "Dan heb je een vergunning nodig en een lening," Akke: "Wat we doen, spreekt banken wel aan. Laatst spraken we met de Triodosbank en die zei: 'Kom maar met een plannetje. Wij zijn bereid om jullie te steunen'."
Onze droom
"Onze droom", vertelt Roeland, "is dat we er een betaalde baan voor 1 of 2 dagen uit kunnen halen. En dat we hier een ruimte hebben waar vanuit we projecten kunnen doen, als freelance  landschapsarchitect of ontwerper, zoals Akke al doet." Akke ziet het al voor zich: "Dan hebben we een ruimte waar mensen wat kunnen eten en drinken, en waar workshops gehouden worden over voedsel en gezondheid. De tuintjes en het groente kweken gaan gewoon door. Mensen kunnen er zitten, werken, vergaderen, van alles." Maar dan moeten we wel deze grond kopen." "Hoe duur is dat?" vraag ik.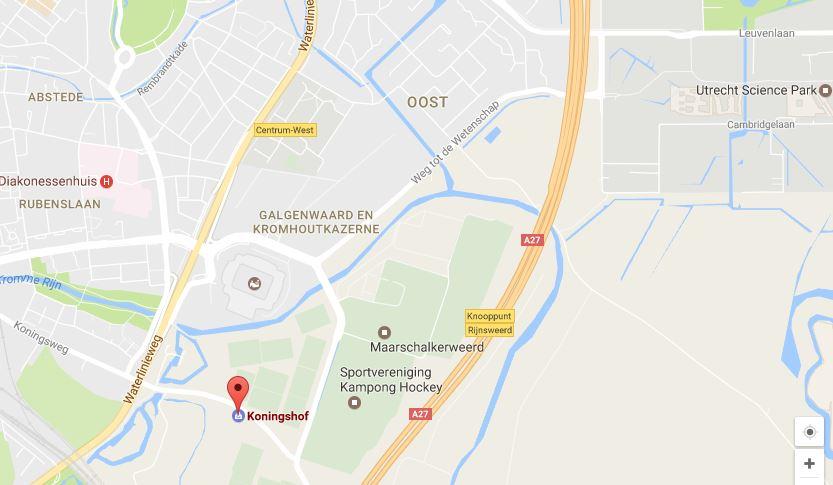 Niemand zegt tegen ons 'jullie zijn leuker'
"Ongeveer €125.000,-. Maar dan zijn we er nog niet. Investeren in een gebouw kost meer. Een zorg is ook het bestemmingsplan. Het is hier altijd agrarisch geweest. Maar Koningshof ligt 250m van de A27, die de minister graag wil verbreden. Maar ook: Laatst is hier een woning verkocht waarvoor de bestemming is gewijzigd naar groen & recreatie. Dat is voor ons wel prettig, want dan mogen we een clubhuis bouwen, maar er zijn hier ook sportclubs met uitbreidingswensen. Als die meer bieden, dan zegt niemand tegen ons 'jullie zijn leuker'. Ook de gemeente Utrecht die dit soort projecten wel stimuleert, is nog erg zoekende hierin," weet Akke.
Omfietsgroente
Over de sportclubs gesproken. Vlakbij Koningshof zit de Sportclub Kampong met 5000 leden. Ik ben er zelf ook lid van (squash). De Gezonde Sportkantines is een hot topic. In het begin wilde Kampong graag samen wat doen. Maar ons aanbod is wisselend en niet altijd toereikend; en de ongewassen groente was niet praktisch in hun kantine. Toen hebben we omfietsgroente bedacht. Als je dan toch naar Kampong moet kun je even omfietsen om hier je groente te halen. En nu zien we af en toe wel kinderen met voetbalschoentjes of hockeyschoentjes door de kas lopen. Maar het zou veel intensiever kunnen.
Kinderen vertellen waar hun voedsel vandaan komt
Kinderen komen hier komkommers zoeken, zo leren ze hoe die groeien. "Heel kort hebben we de 'kindermoestuin' hier gehad. Dat was iemand die voor €250,- per seizoen iedere woensdagmiddag kinderen uit school haalde en met hen de tuin in ging en ook met ze ging koken of pizza bakken. Maar ouders vonden het te duur. Toch wel raar, voor een oppas betaal je dat ook," vindt Akke.
 
Wie wil je bereiken?
Akke realiseert zich wel: "Utrecht oost is over het algemeen een welgestelde wijk, met mensen die niet ieder dubbeltje om hoeven te keren. Maar er zijn wel een paar buurten, waar kinderen wonen die niet zo gemakkelijk hiermee in aanraking komen, die je wel zou willen bereiken. Maar dan moet je eigenlijk wel dingen dichter bij hun huis organiseren. Dat gebeurt ook wel," weet Akke, vanuit haar andere project, de Oosterspoorbaan. "Een volgende stap zou zijn om ze dan hiernaartoe te laten komen. Er zijn veel leuke projecten te bedenken die je met kinderen kunt doen. Zoals uittekenen hoeveel ruimte een kip nodig heeft om rond te lopen en hoeveel ruimte de worteltjes nodig hebben om te groeien. Je kunt het heel beeldend maken."
Binnenkort komen er vier schapen bij
"Eigenlijk gek", vindt Roeland: "Vroeger waren bedrijven gesloten kringlopen, die zijn nu helemaal uit elkaar getrokken. Tuinbouw bedrijven hebben een voedingsstoffen tekort. En veehouderij bedrijven hebben een mestoverschot en dat wordt afval genoemd. Onze ambitie is om dit weer bij elkaar te brengen. We hebben ook al wel kippen gehad, die de grond loswoelden en de (onkruid)zaden opaten." Nu ik dat zo opschrijf vraag ik me af of dat de bedoeling wel was.
Boomgaard
De schapen komen in de boomgaard. "Boomgaard?" vraag ik. Die had ik nog niet gespot. Nu ja het is een grote naam voor de 25 jonge, kleine bomen, die verspreid over het terrein staan. Het zijn allemaal oude rassen die hier van oudsher al voorkwamen. Je kon een boom adopteren voor €40,- en er altijd van blijven oogsten. Zo vertel je mensen dat zo'n boompje er ook niet voor 2 jaar is.
We eindigen ons gesprek met een vergezicht. Ik vraag wat ze zouden doen als geld geen issue was. Akke zou een paviljoen gaan bouwen. Roeland:  "Ja, met zonnepanelen, maar ik zou het niet allemaal door een aannemer laten doen en op een stoeltje gaan zitten. Het is juist het proces wat het zo interessant maakt.…"